The content is accurate at the time of publication and is subject to change.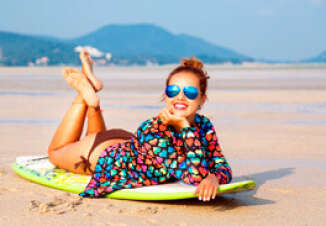 Getting ready to pack your bags and head out for some summer fun? You're not alone, with 8 out of 10 Americans gearing up to do the same thing, according to the American Express Spending & Saving Tracker. When you do the math that equals 195.9 million people traveling this season, with each one planning on spending $941.
Summer fun and travel are an American tradition. "More than any other season, Americans see summer as a chance to take a break from their everyday," said Claire Bennett, executive vice president, American Express Travel. "Beach trips remain the go-to summer vacation, but we're also seeing outdoor activities, such as visiting National Parks and historic landmarks, making a notable appearance on the list of popular summer travel plans."
Millennials Taking Off
Millennials lead the way when it comes to summertime travel, out planning the general population - (89% vs. 80%), even though they are pretty busy and planning on saving their cash in 2016.
Even with travel trending, 11% of Millennials are planning to vacation close to home. Why? Typically, it's because there is a big event coming their way, including having a baby or landing a new job (18% vs 10% general population).
Most Americans get 14 vacation days a year, and they are planning on using eight of them over the summer. To get the most out of those days, weekend getaways are on the agenda for 64%, which is on par with last year.
What weekends? Long holiday weekends of course, including:
• Fourth of July weekend (35%)
• Memorial Day weekend (24%)
• Labor Day Weekend (21%)
Domestic travel trumps international getaways
Will Americans be going overseas? No, 72% are going to be traveling domestically, vs 15% heading out overseas. What are the most popular vacation themes? They are:
• Beach trips (40%)
• Visiting family (34%)
• Road trips (31%)
• Open-air adventures like biking, camping and hiking (21%)
• Trips to national parks (21%)
National Parks? Yes, it is the the National Parks Service Centennial, so it's not surprising that they are on people's to-do list, with 78% interested in heading out to these historic parks, including: Yellowstone National Park (25%), the Grand Canyon in Arizona (22%) and the Statue of Liberty or Ellis Island in New York City (22%).