The content is accurate at the time of publication and is subject to change.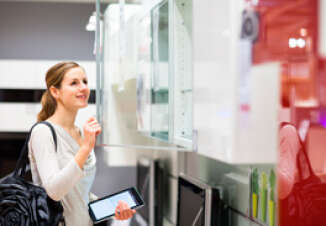 Synchrony Financial and La-Z-Boy have inked a multi-year deal extending their private label credit card relationship so consumers can still use this credit card to finance their recliners and furniture.
Synchrony Financial and La-Z-Boy originally teamed up in 2007 and began offering the furniture retailer's customers access to financing via the La-Z-Boy Furniture Galleries credit card. This extension is a way for the two to build their relationship and for La-Z-Boy customers to keep on easily financing their purchases.
"Our relationship with Synchrony Financial provides our customers with payment options so they can transform their living spaces and turn houses into homes," said Doug Collier, CMO and President International, La-Z-Boy. "The La-Z-Boy credit card is an important part of enhancing the consumer shopping experience with convenient and attractive financing options."
Study says financing is important
The Fourth Annual 2015 Major Purchase Consumer Study, commissioned by Synchrony Financial, looked at the most important factors for consumers when shopping.
They found that for people with a Synchrony Bank furniture card, promotional financing is very important to the shopping process with 74% indicating that they always look for promotional financing when shopping for big-ticket items. And nearly half said that if they would go elsewhere if a retailer wasn't offering a promotional deal.
Getting the card
People who are interested in getting the La-Z-Boy Furniture Galleries credit card can sign up online or they can apply at any of their stores.
Once approved people with this card get access to special deals which includes special financing options and promotions, as well as extended payments.
This news came on the heals of Synchrony Financial signing extension agreements with other retailers over the last six months, including P.C. Richard & Son, Stein Mart, New Egg and PayPal.
La-Z-Boy has been in the furniture business for over the last 89 years and has over 800 locations, offering their signature recliners, as well as manufacturing other kinds of furniture, including reclining sofas, love seats, sleep sofas and sectionals, along with non-reclining sofas and chairs. They also offer a selection of modular furniture and leather upholstery.