The content is accurate at the time of publication and is subject to change.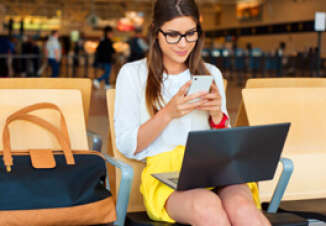 Across the board technology is changing, and this is very much the case with travel technology, according to the new Sabre Labs Emerging Technology Report looking at how everything from being checked in at hotels by humanoid robots to vacations powered by virtual immersion, are possibilities sometime in the future and definitely trending.
During the study they looked at the thee major technology trends that may have a direct impact on the travel industry. They found that Conversational Interfaces is hot. What it it? Conversational Interfaces involves messaging and voice technologies, along with new kinds of communication tech that are evolving. Then there is Digital Realities exploring how virtual and augmented realities are taking the travel landscape to a new level.
Last but not least is Connected Intelligence, and if this sounds like androids and AI's you would be right. This trend looks at the real time role of robots, bots, and location beacons in travel.
Decision making in 2017 for travel insiders
The Emerging Technology Report breaks down all Sabre's current research in order to help businesses in the travel arena (agencies, airlines, and hoteliers) and travelers get a clear view of not only what the trends in tech are, but how they will affect the industry as a whole.
Sabre Labs is a tech lab – a space where they check out evolving technologies, which are poised to have an impact on travel over the coming decade. During the course of their research they take the possibilities that these technologies represent and create real world tools for travelers and businesses.
This study is an extension of the work Sabre is already doing, and how technology facilitates the travel industries growth. "Sabre is constantly exploring new technologies to determine how they can best be applied to the travel industry to improve the travel experience," said Mark McSpadden, director – Sabre Labs. "We continue to discover new ways these technologies can fit into our portfolio and drive innovation for our customers and their travelers."
Sabre Corporation provides technology to the travel industry around the world, including software, data, mobile and distribution solutions. They are Headquartered in Southlake, Texas, USA, and service businesses located in 160 countries around the globe.