The content is accurate at the time of publication and is subject to change.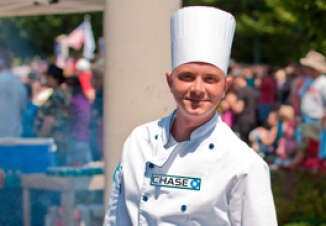 While the Vegas Uncork'd food festival was in full swing over the weekend, Chase Sapphire Preferred teamed up with Bon Appétit to host the Chase Sapphire Preferred Grill Challenge. For the event celebrity chefs Emeril Lagasse and Michael Mina partnered up with Elsa Sabellano Jenstad and Krista Burdick, two students from Le Cordon Bleu College of Culinary Arts in Las Vegas. The teams were competing for $25,000 in scholarships for the culinary students.
The event took place at the MGM Grand during Emeril's New Orleans Seafood Extravaganza. "The Chase Sapphire Preferred Grill Challenge is an exciting event for Vegas Uncork'd and the local culinary community," said Emeril Lagasse. "It is a great opportunity to work alongside the future of the culinary world with the students from Le Cordon Bleu."
"I am thrilled to be part of this culinary challenge with my fellow chefs," said Chef Michael Mina. "The Chase Sapphire Preferred Grill Challenge is a fun and unique way to further the education of talented culinary students in Las Vegas."
Get your sizzle on 
Team Emeril and Team Mina were  tasked with preparing Bouillabaisse, a classic French dish, but there was a catch in the challenge when emcee Andrew Knowlton, restaurant and drinks editor at Bon Appétit, announced that black garlic was slated to be the event's "culinary curveball."
Each team took a different approach when preparing the dish, with Chef Lagasse and Elsa Sabellano Jenstad tossing lemongrass into the mix to give it a Filipino edge, and Chef Mina and Krista Burdick giving it a classical treatment by serving it with seared scallops and snapper.
And the winner is
The competition was judged by three editors from Bon Appétit: Adam Rapoport, Alison Roman, and Rochelle Billow, who in the end gave the win to Team Emeril and Elsa Sabellano Jenstad took home a $20,000 scholarship. But Krista Burdick, the runner-up, didn't go home empty handed. She received a $5,000 scholarship.
"It's exciting to be a part of an event like this which matches up-and-coming talent with seasoned celebrity chefs," said Lisa Walker, general manager, Chase Sapphire.