The content is accurate at the time of publication and is subject to change.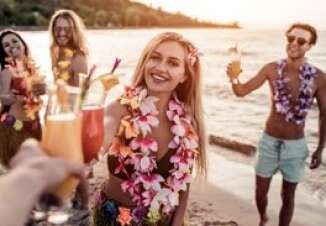 Vacationing in Hawaii can be a dream for many, and those with the recently upgraded Hawaiian Airlines World Elite MasterCard and Hawaiian Airlines Business MasterCard can earn miles towards a trip quicker with the cards newly revamped 3-2-1 rewards structure. With both cards, you'll now earn triple miles when flying with Hawaiian Airlines.
Individuals with the Hawaiian Airlines World Elite MasterCard also earn double miles when eating out, pumping gas and when shopping for groceries. While those with the Hawaiian Airlines Business MasterCard earn double points at restaurants, gas stations and office supply stores. All cardholders earn 1 mile per dollar spent on all other purchases - and there is no mileage cap.
"Whether a frequent flyer to the Hawaiian Islands or saving for a once-in-a-lifetime trip, our cards are tailored toward rewarding cardmembers with meaningful benefits," said Dan Dougherty, managing director of airline partnerships, Barclays.
"By allowing cardmembers to earn miles faster as well as access companion discounts and mile sharing with friends and family, we're un-complicating travel to Hawaii and making dream vacations a reality," he added.
50,000-mile bonus
With the consumer card, people earn 50,000 bonus miles once they spend $3,000 during the first three months they have the card. With the business card, they earn 50,000 bonus miles with their first purchase. The 50,000 miles is enough to get cardholders a trip from the West Coast of the United States to Hawaii.
Business cardholders can also earn 40,000 additional miles during the year with a $100,000 spend.
Both cards come with a one-time, 50% off companion discount for new cardholders. It can be used for one round-trip airfare going between North America and the Hawaiian Islands.
Benefits and perks
People with the Hawaiian Airlines World Elite MasterCard also get one free checked bag when traveling with the airline. To get this perk they must use their credit card to buy their ticket. They also get access to discounted award flights.
Cardholders with either the Hawaiian Airlines World Elite MasterCard or the Hawaiian Airlines Business MasterCard also receive a $100 annual companion discount every year. When traveling abroad, there are no foreign transaction fees to pay.
They can also share miles with their friends and family via the Share Miles program. There is no fee for sharing miles.
With the Hawaiian Airlines Business MasterCard, cardholders can opt to give their employees a credit card, so they can not only earn more rewards, but also track spending more effectively.
There is a $99 fee for both cards.
To get more information, visit this website.