The content is accurate at the time of publication and is subject to change.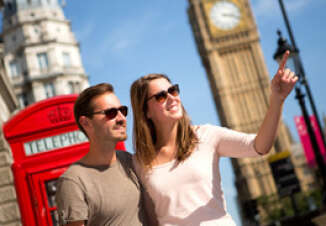 Traveling more and spending more on travel are on the agenda this year, according to a new survey by American Express. Along with a renewed desire for travel and a willingness to invest in it, certain locations, including London and Mumbai,  are trending with travelers looking to take in some culture, sign up for a foodie holiday, or have an outdoor adventure.
Spending is up, up, up.
Eighty-six percent of travel agents surveyed said that when compared to last year, travelers will be spending just as much or more money on travel. Splurging on extras, so that they have the best trip possible, is also on the to-do list including:
Upgrading hotel accommodations even if it means spending more (47%)

Planning activities on their trip (39%)

Scheduling longer trips (38%)

Upgrading flights and services (32%)
Travel is not one size fits all with 67% of counselors reporting that they are spending more time helping people create customized itineraries, including finding the best flight and hotel accommodations, destination-based activities, and booking time for travelers to explore.
It's all about the destinations
When they looked at destinations with the greatest year-over-year growth, the mandate by travelers was clear: they are looking to visit large cosmopolitan cities, with old favorites like London, Santiago, New York, and San Francisco among the top picks. Mumbai is also on the list, partially due to an increasing interest in Bollywood, and Buenos Aires due to its blend of European and local culture.
The top ten travel picks for 2015 are:
• London, England
• Santiago, Chile
• Paris, France
• Mumbai, India
• Buenos Aires, Argentina
• Providenciales, Turks and Caicos
• Puerto Vallarta, Mexico
• Sydney, Australia
• New York, NY
• San Francisco, CA
American Express Travel Counselors also reported that more travelers are booking trips to spots that didn't make it into the top ten including New Zealand, Vietnam, Myanmar, Croatia, Iceland and Italy.
The American Express Travel survey included responses from 213 American Express travel agents throughout the U.S., Canada and Mexico. It was conducted between October 30 and November 28, 2014.