The content is accurate at the time of publication and is subject to change.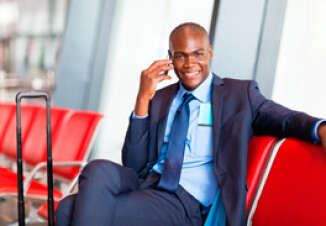 Those long TSA lines can be pretty daunting when you're traveling, with delays and hassles being part of the travel equation for some of us. But business travelers who have opted into the TSA PreCheck program are happier and more satisfied with travel and passing through airports, according to the new Global Business Travel Association's Business Traveler Sentiment Index.
GBTA Business Traveler Sentiment Index, which was done in partnership with American Express, looked at business travelers' satisfaction levels, finding that 66% of business travelers have higher satisfaction levels than those who don't (47%) when it comes to getting through security. This also translated into people being happier when hitting the skies, with 66% indicating just that.
For the GBTA these levels of satisfaction signal that the TSA PreCheck program is working. "GBTA has long supported risk-based approaches to passenger security that both make the process more efficient and more secure," said Michael W. McCormick, executive director and COO of the GBTA. "This insight into the mindset and attitudes of business travelers shows that programs like this work and make for a better business travel experience."
Baby Boomers lead the way
The survey also looked at what generations of business travelers were taking part in the PreCheck program, finding that Baby Boomers (55+) are leading the way when it comes to enrollment in the program. With 51% signed up for the TSA PreCheck, while just 37% Gen Xers (35-54) and 32% of Millennial's (18-34) are on board.
The survey also looked at satisfaction levels when it came to expense reporting showing an upswing in satisfaction levels in this area, with 71% feeling good about managing receipts during the fourth quarter, up from the last quarter when 59% were feeling some satisfaction. Going hand-in-hand with this was people's satisfaction levels when using their personal credit card to pay for their business expenses, with 71% giving it a thumbs up.
Part of this upswing may be due to Baby Boomers becoming more comfortable with using digital tools to get and keep a handle on their expenses. Here too they are ahead of the pack, with 80% indicating that they are using these tools effectively to manage receipts, while 72% of Gen Xer's and 59% of Millennials are happily using them.
"Bleisure" rules
In this study they also looked at how people felt about turning business trips into pleasure trips by extending their stays. This trend is now being nicknamed Bleisure. The results? For 67% of business travelers getting in some down time before or after a trip for work Bleisure is key, so much so that 36% report doing just that during the past 90 days.
Millennials outdo their older counterparts in this area. But they are not alone, women and people who work at small- or medium-sized businesses are most likely to opt to get in some Bleisure.