The content is accurate at the time of publication and is subject to change.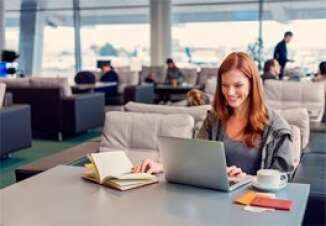 If you're passing through either Hong Kong or Philadelphia International Airport you will be able to stop in at the new Centurion Lounges opened there by American Express. The lounge in Hong Kong went live early in October and is the first one located in Asia. The Philadelphia lounge is slated to open late in October.
With the addition of these two lounges, the number of Centurion Lounges available to travelers climbs to eight. "We are excited to introduce our first Centurion Lounge in Hong Kong, which continues to be a top destination for our Card Members and an epicenter for contemporary culture," said Janey Whiteside, executive vice president and general manager of Global Charge Products, Benefits & Services, American Express.
"We're equally thrilled to expand our offerings in the U.S. with the opening of a Centurion Lounge location in the growing travel hub of Philadelphia. These two new additions to our Centurion Lounge offerings and broader Global Lounge Collection build on our ongoing commitment to provide our increasingly global Card Members with access to premium travel benefits and experiences," she said.
Platinum Card and Centurion members get free access to The Centurion Lounges. Those with a Platinum card can bring up to two friends or family members for free, while Centurion Members can bring along their immediate family members or two other companions.
Heading to Hong Kong
People can find the Centurion Lounge at Hong Kong International Airport in Terminal 1. The lounge comes with a variety of amenities including a buffet featuring dishes that are inspired by local fare. Offerings include Dim Sum baskets, stir-fried rice with eggs, mushrooms and vegetables, and chicken congee, as well as other dishes.
A full bar is also on site offering free drinks designed by mixologist Jim Meehan, along with wine selections curated Anthony Giglio.
There are also meeting rooms, phone areas, and workspaces so people can get some work done. While those looking to freshen up can check out the private shower suite complete with L'Occitane amenities.
There is also a private area for Centurion Members where they can get help with a variety of travel, reservation and card services issues or needs. In this area, they can also check out a special a la carte menu designed by chef Lau Yiu Fai of Yan Toh Heen at the InterContinental Hong Kong. These dishes include everything from baked pork in puff pastry and crispy spring rolls with kimchi pork to crispy fresh prawns with black truffles and baked egg tartlettes with bird's nest.
Then there is Philadelphia
At the end of October American Express will open their 6,300 square foot Centurion Lounge in Terminal A West at Philadelphia International Airport. The lounge will feature Israeli-themed food by Chef Michael Solomonov, offering dishes like Israeli salad with feta, Bulgarian kebabs with red pepper, and Challah French toast with tehina and blackberries.
Here too people will be able to grab complimentary drinks at the bar featuring cocktails and wine curated by Jim Meehan and Anthony Giglio.
The lounge design will also feature floor-to-ceiling windows, along with workspaces, power outlets, and private phone areas, as well as high-speed Wi-Fi.