The content is accurate at the time of publication and is subject to change.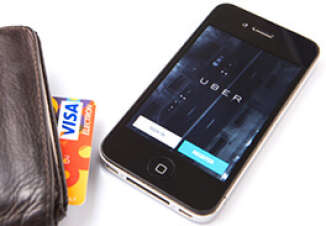 Uber and Visa are rolling out Uber Local Offers, letting Visa cardholders earn discounted rides when shopping with their local retailers and merchants. The key is to use the Visa card they have on file with Uber. By doing so riders rack up points – and for every 100 points they get $10 off their Uber ride.
Uber Local offers is located directly in the Uber app and is being launched in Los Angeles and San Francisco first with more cities to follow. A sampling of businesses already signed up for the new program in these two cities include Barcito, Delarosa, Ike's, Super Duper, Lucille's Smokehouse Bar-B-Que, Mixt Greens, Peet's Coffee, PizzaRev, Specialty's Café & Bakery, The Pie Hole, Uno Dos Tacos, Veggie Grill and Wurstküche.
Kaley Cuoco, from the Big Bang Theory, is helping get the word out about how to use Uber Local and its benefits. She was on hand at Barcito and The Pie Hole, to give people the inside track on this new initiative.
How it works
When people use their enrolled Visa credit card in the Uber App, they then begin earning points when the shop at merchants who have signed up to take part in the initiative.
To get started, people should make sure they have the newest version of the Uber app loaded in their mobile device and once they do sign up. The app will then begin logging in people's points while they shop. There are no coupons or special codes to use.
Shopping local
According to Visa, cardholders who already use Uber in the U.S, are currently spending over $144 billion a year at brick and mortar stores. This partnership is seen as a way to give cardholders more and to get more customers shopping with local merchants.
"Our partnership with Uber and local businesses is a great example of Visa's ability to deliver value to businesses and consumers in a way that is simple and seamless," said Terry Angelos, vice president of loyalty and offers for Visa. "The rider experience can now be extended beyond the car and into the local community, where merchants can access $2 billion in local spending while rewarding cardholders for everyday purchases. That's a relationship that makes sense for riders, Uber and local businesses."
For more information people can visit the website.