The content is accurate at the time of publication and is subject to change.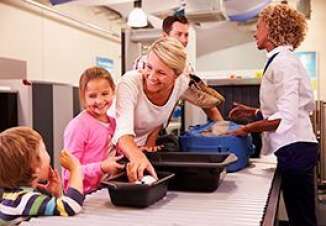 The TSA PreCheck program that allows pre-cleared air travelers to pass through airport security more quickly could be expanded if new legislation is passed.
U.S. Sens. John Thune (R-S.D.) and Gary Peters (D-Mich) recently introduced the Secure Traveler Act that would automatically expand enrollment in the program to include any traveler who has already passed an extensive background check, like federal employees holding an active security clearance and law enforcement officers.
The purpose of this bill is to make it easier for vetted individuals to enroll in the PreCheck program and eliminate duplicate background checking, which, in its turn, could ease pressure on TSA workforce.
The U.S. Travel Association endorses the bill and "applauds the bipartisan efforts of senators and is eager to lend its support to Congress to ensure the swift passage of this important bill."
"Those serving in positions of public trust have already undergone a stringent vetting process. Eliminating a duplicative background check for these individuals will facilitate Precheck enrollment, helping to reduce wait times and alleviating pressure on an already stretched-thin TSA workforce," said Tori Barnes, U.S. Travel Executive Vice President of Public Affairs and Policy. "The expedited screening process requires fewer officers and allows the agency to focus resources on travelers who have not been vetted. Security is therefore the main beneficiary of growing PreCheck."
The Secure Traveler Act would only expedite the application process for people who have already been through a vetting process. It won't eliminate fees or other program requirements. The applicants would still be required to meet other program requirements and pay all associated fees. The current cost for a five-year membership in the TSA PreCheck program is $85 per person. However, this fee can be reimbursed as some travel credit cards offer TSA PreCheck credit.
All travelers can benefit if the bill passes because it will help to reduce wait times at airports and make security lines shorter for all.
Currently, there are dozens of airlines participating in TSA PreCheck program. You can click here to view a full list of TSA PreCheck Participating Airlines.