The content is accurate at the time of publication and is subject to change.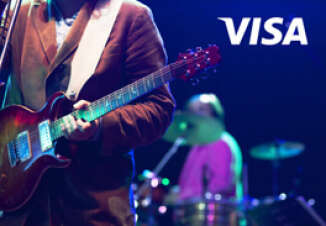 Visa and StubHub have been partners for a while, but they have decided to take their partnership to another level by combining Visa checkout with Stubhubs ticketing system. This upgraded partnership means cardholders get access to seat upgrades and discounts, with the duo planning on rolling out new perks during 2017.
Visa is excited by this partnership and what it brings to their customers. "StubHub has been a great partner, and we are thrilled even more consumers will be able to get their tickets on StubHub using Visa Checkout online or in app," said Sam Shrauger, senior vice president, digital solutions, Visa. "As Visa Checkout approaches 20 million consumer enrollments, we look forward to our continued partnership and bringing consumers an easier way to pay on the StubHub mobile app."
Upgrades, app integration and more
These upgrades will include getting a upgraded seat when people use Visa Checkout to buy their StubHub tickets.
And they are bringing back a promotion in April that they offered last year over the holidays-giving Visa Checkout users a discount on tickets bought via StubHub.
To make buying StubHub tickets easier they will be offering their customers access to Visa Checkout directly from the StubHub app.
This integration streamlines the payment process so its easier to get the tickets people want – and take advantage of the perks and upgrades being offered.
Kicking off the partnership
They kicked off this initiative with a private concert hosted by Visa and StubHub at the Everywhere Lounge in Austin, just as StubHub revved up for their music showcase series. The series featured 28 performers, with a wide array of lifestyle influencers were on hand for the kickoff festivities, as well as the StubHub showcase.
"We're always looking for unique and new ways to give our fans the best possible experience – whether that's putting them in the center of the action, or giving them an easier way to pay, like Visa Checkout," said Glenn Lehrman, global head of communications, StubHub. "This is just the beginning of how our two brands will continue cutting-edge collaboration and strive to make exclusive experiences more seamless."