The content is accurate at the time of publication and is subject to change.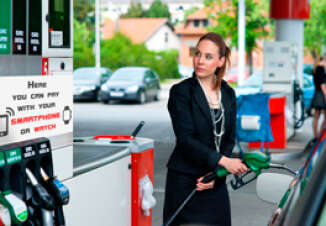 Have you ever pumped gas at a Chevron Station and wished that you could pay with your smartphone or watch? Well, if you have, and you live in Northern California then you are in luck, because Chevron USA and Visa have teamed up to make it a reality. Twenty Chevron stations located in Silicon Valley and San Francisco will be rolling out a mobile payments program. These stations will accept all NFC (near-field communications) payment service, regardless of the kind of mobile device you're using.
Soccer star promoting the benefits
To let people know more about this program they have filmed a YouTube video featuring Soccer star Carli Lloyd, who uses her phone to pay for her gas, while she keeps her soccer ball in the air. "With my travel and training schedule, I rely on my mobile phone to do so much more than keep in touch with friends, family and fans," said Carli Lloyd, soccer champion. "Even better, is when I can use my phone to do something faster, like paying for something with just a tap."
Lloyd hovers her phone over the payment area, and the payment is confirmed. During this process her phone generates a one-time token that lets the terminals know the transaction can go through. This token does not contain any financial information, giving users another layer of security, while making it harder for hackers to hijack users' credit or debit card information.
Times are a changing
This move is seen as being timely for Chevron considering that at least 80% of their customers already pay for their gas with either their debit or credit card. This new program will make it easier to pay for their gas and get back on the road.
"Mobile payments are moving into the mainstream in the U.S. because, more and more, consumers see the value of using their personal devices to purchase everyday items like groceries and gas," said Jim McCarthy, executive vice president of innovation and strategic partnerships at Visa Inc.