The content is accurate at the time of publication and is subject to change.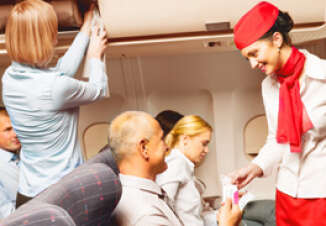 With the holidays here travelers are heading out to see friends and family, so its not all that surprising that while on the road they can come upon some people who can be rather annoying, ranging from the one who talks way too much to the guy who has drank too much holiday cheer. All of which has the ability to turn a good or great travel day into a nightmare, according to a new study by Travelocity.
For the Travelocity study they talked with 1,500 travelers, finding that the top three most annoying travelers are:
• The Oversharer – the person who is stoked about heading home for the holidays, so much so that in their excitement they talk the whole ride, sharing stories about their family and friends, and anything else they can think about.
• The Just One More Egg Nog Guy – this traveler is all about holiday cheer, having started celebrating at the lounge or the bar, hitting the tarmac having imbibed too much. And much to the chagrin of their seatmate may be looking for a few more beers or cocktails from the flight attendant.
• Rudolph the Red Nosed Passenger – this passenger comes on board sick with a cold or the flu desperate to go home and in doing so is willing to share his or her germs with everyone. They usually end up in the middle seat, so no one can escape the germs.
Travel tips
While conducting the survey, Travelocity also came up with some tips that can help people have a better traveling experience.
Women are more likely to accommodate fellow travelers looking to switch their seat. On the other hand, men are two times as likely to be annoyed by a seat switcher – so pick carefully.
Any travelers who have had a few drinks at the bar, a party or the lounge before boarding the airplane may want to steer clear of millennials, because they are two times more likely to find these tipsy travelers oh so very annoying.
Travelocity was launched to help travelers find deals, and it is owned by Expedia. They have set up a special page on their website to help travelers find holiday flights, and they have also set up a best day to fly tool.