The content is accurate at the time of publication and is subject to change.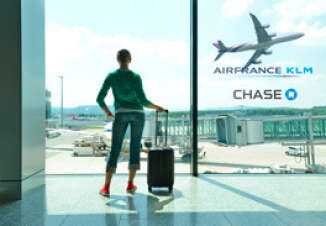 If you have a Chase Ultimate Rewards credit card and have been wishing that you could use your points to book seats with Air France and KLM Royal Dutch Airlines, you're in luck, because the airline's Flying Blue loyalty program, and Chase Card Services have announced that Flying Blue is the latest Ultimate Rewards point transfer partner.
Points can be redeemed at a 1:1 ratio, so every Chase Ultimate Rewards point translates to a Flying Blue mile. Cardholders can transfer points in batches of 1,000, and there are no limits on how many points can be be transferred over to Flying Blue. The new partnership also gives cardholders access to Flying Blue's non-airline partners in Europe as well.
Booking flights with 36 new airlines
Cardholders with eligible Chase credit cards, which includes Ink Plus and Chase Sapphire Preferred, can also book flights with 34 additional Flying Blue airline partners besides Air France and KLM Royal Dutch Airlines, flying out to over 1,000 destinations around the world. As a side note - they are subject to Flying Blues terms and conditions.
If cardholders are looking to book a flight to Europe from the U.S., 50,000 points can be used to get a round- trip ticket.
Excitement in the air
"We are pleased to bring our cardholders the superior value, options and ease of Ultimate Rewards along with Flying Blue's expansive airline partner network to provide new redemption opportunities for travel experiences throughout Europe and beyond," said Lorraine Chow Hansen, general manager of Chase Ultimate Rewards and Loyalty Solutions.
"Through this partnership, points are transferred at full value allowing cardholders to get the most out of their rewards when redeeming for flights, upgrades and more with Flying Blue," she added.
Flying Blue has about 25 million members in Europe, along with the 36 member airlines and over 100 non-airline partners. They were voted "European airline program of the year" at the annual Freddie Awards.