The content is accurate at the time of publication and is subject to change.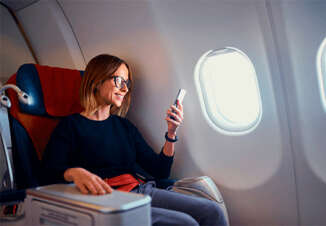 On February 1, American Airlines announced further expansion of its partnership with Apple. Now you can explore the full collection of titles available in the Apple Books library.
Books have always served travelers well, but the addition of free movies and TV shows has shifted the preferences. Now American Airlines is bringing back travel and reading experiences by offering a curated collection of books, which highlights Oprah's Book Club picks and other great reads for every genre.
Additionally, AAdvantage members can get one of Oprah's most popular selections for free on Apple Books when flying on American. February is Black History Month in the United States. And to honor this event, The Water Dancer by National Book Award winner Ta-Nehisi Coates is the first free ebook offered through this program.
American customers can also enjoy other entertainment offerings that also include the dedicated Apple TV+ inflight channel and Apple Music, all for free in flight on Viasat-equipped planes.
Please note that in the last few years, American Airlines has been shifting to a more individualized inflight entertainment system and eliminating seatback screens on its planes. So make sure you bring your own compatible device, like your phone, tablet, or laptop, to be able to enjoy free entertainment.