The content is accurate at the time of publication and is subject to change.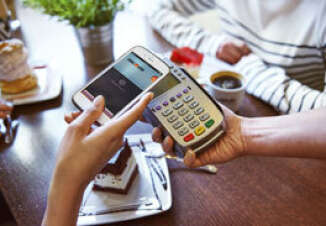 If you have an iPhone 6 and a Discover card and you want to use contactless payments, you're in luck. Discover has announced an agreement with Apple that brings Apple Pay, the NFC-powered contactless payments platform, to Discover cardholders this fall.
People will be able to pay for purchases using their Discover Card via their Apple Watch, iPhone 6, or iPhone 6 Plus. They can also use the iPad Air 2 or iPad mini 3 when making in-app purchases.
With Apple Pay, consumers make contactless payments using a debit or credit card they've linked to Apple Pay. The user's card number is not stored on their device, or on Apple's servers, making the payment secure.
Unique Device Account Numbers are assigned to each customer and securely stored in their electronic devices. Each transaction is authorized using a one-time security code, rather than the security code from the back of the credit or debit card. Users hold their phone up to a contactless payment card reader in order to make the payment.
Many banks and credit card issuers have already signed up for Apple Pay, including over 20 banks and credit unions with MasterCard brand payment cards.
Freeze It! security and cashback bonus still in effect with Apple Pay
Discover customers will still accrue cashback bonus rewards when making purchases with Apple pay, and the new Freeze It! security feature offered by Discover will still work as well. Freeze It! lets cardholders turn their card off from a smartphone in case of loss or theft, stopping new purchases, cash advances, and balance transfers until the user turns the card on again.
Discover offers a cashback bonus to their cardholders, which may be anywhere from 1% to 5% back on purchases up to quoterly maximum. Each quarter, a new spending category is eligible for a higher cashback bonus amount. Users must sign up to get the additional bonus rewards.
Currently, cardholders can get 5% back on restaurant and movie purchases through June 2015. In addition, cardholders who make purchases through the Discover cashback online shopping mall, Shop Discover, can get additional cashback on purchases.
Certain financial institutions offer Discover Debit cards; these will also be eligible for Apple Pay under the agreement between Apple and Discover Network.