The content is accurate at the time of publication and is subject to change.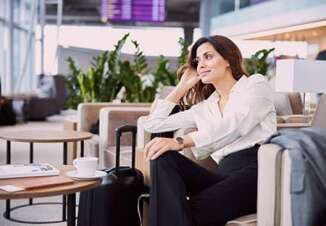 Credit card branded airport lounges continue to open, and one of the recent announcements was Chase's intention to enter the competition in airport lounges by opening its own branded lounges.
Chase plans to open six airport lounges that will be known as Chase Sapphire Lounge by The Club. All Chase lounges will be open in partnership with Airport Dimensions.
Airport Dimensions is a global lounge operator most of which lounges are branded as "The Club" or "Club Aspire" and are accessible via Priority Pass membership.
Chase airport lounges do not have exact opening dates or any other specifics about lounge amenities. However, Chase lounges are expected to offer more upmarket amenities than some other Priority Pass locations, including showers, family rooms, wellness and rest areas. The first two Sapphire lounges are expected in 2022. Here are six airports that will have Chase Sapphire lounges:
- Boston Logan International Airport (BOS) in the connector between Terminal B and Terminal C
- Hong Kong International Airport (HKG) in Terminal 1
- Las Vegas Harry Reid International Airport (LAS) in Terminal 1 C Gates
- New York LaGuardia Airport (LGA) in Terminal B
- Phoenix Sky Harbor International Airport (PHX) in Terminal 4 South 1
- San Diego International Airport (SAN) in Terminal 2 West.
It is expected that Chase Sapphire Reserve cardmembers and Priority Pass members will have free access to new Chase airport lounges. That means that folks with premium rewards cards from other banks that come with Priority Pass access as a perk, might be able to visit new lounges.
There's no information, however, whether Chase Sapphire Preferred cardmembers or Ink Business Preferred cardmembers will get free or discounted access to Chase Sapphire lounges as well.
Chase is not the first credit card issuer to come up with the branded airport lounge idea. American Express is the current leader in this arena with its Global Lounge Collection and the most upscale Centurion Lounges. Capital One has also stepped in with the opening of its first airport lounge at Dallas-Fort Worth and plans to open two more airport lounges. If the trend continues, we may see an intense airport lounge competition among major credit card issuers.