The content is accurate at the time of publication and is subject to change.
Photo courtesy of American Express.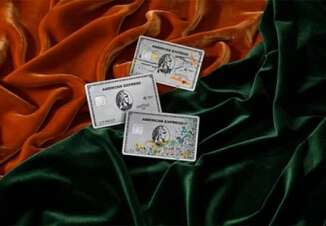 American Express unveiled new designs for its consumer Platinum Card. The two new Art x Platinum designs will be available to existing and new Platinum Card members beginning January 20, 2022.
Earlier this year American Express introduced new designs for its exclusive Amex Centurion Card. Invited customers can now choose among three designs: classic black, one designed by Rem Koolhaas, or the one by Kehinde Wiley. For the Platinum Card, Amex also collaborated with two world-renowned artists - Julie Mehretu and Kehinde Wiley.
Julie Mehretu is one of the most renowned abstract artists today. She paints abstract multi-layered landscapes linking architecture, identity and history. Her works depict the cumulative effects of urban sociopolitical changes. For Amex, she created the Platinum x Julie Mehretu, which evokes the abstract modernity for which she is known.
"Art is all around us and I am delighted that a part of my work can now be found on the smallest of canvases in Platinum Card members' wallets," said Julie Mehretu.
Kehinde Wiley is a visionary portrait painter known for his highly naturalistic paintings of African Americans who are set against contrasting ornate decorative backgrounds. This is his second collaboration with Amex. This time he also uses distinctive botanicals to create the Platinum x Kehinde Wiley.
"This was an exciting project and powerful experience for me to translate my artistic approach into one of the reimagined designs for the Platinum Card," said Kehinde Wiley. "I am proud to help Platinum Card members enjoy a bit of artistic inspiration every day."
Existing U.S consumer Platinum Card members will be able to switch to one of the two new Art x Platinum designs beginning January 20, 2022. New applicants will also be able to choose one of the three designs (including classic design) beginning January 20, 2022.