The content is accurate at the time of publication and is subject to change.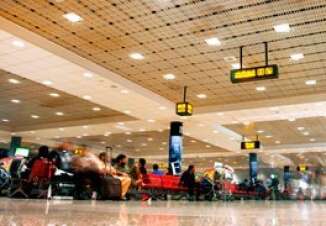 Are you a regular at Denver International Airport (DEN)? If so, you may want to check out the new Centurion Lounge when it opens next year. It's stated to be the eleventh lounge in the Centurion line up. Offering airfield views and taking up 14,000 square feet of space, it'll be the second largest of these swanky American Express lounges.
Platinum cardholders and Centurion members get into the lounge for free, and they can bring along two family members or traveling buddies, too. The lounge will be situated in the Concourse C Mezzanine, which can be accessed from any concourse, no matter what airline you're flying.
"Airport lounge access is one of our Platinum Card Members' favorite benefits, with our Card Members' global lounge visits increasing 30 percent year over year," said Josh McKay, vice president and general manager, Global Benefits and Services, American Express.
"We are thrilled to share our plans to bring one of our signature Centurion Lounges to the Denver International Airport, as Denver is one of the top airports our premium Card Members travel through. In just the past year we've seen a 36 percent increase in air travel through Denver among U.S. Premium Card Members booking through American Express Travel in this market alone," he added.
Amenities to go along with that view
The lounge at DEN will also include special amenities, as well as unique design aspects. Both of which will be unveiled closer to its opening. That said the lounge will also come with the amenities that you typically find in Centurion Lounges around the world, including free food prepared by top chefs, drinks crafted by mixologists and wines curated by wine specialists.
Centurion Lounges also include everything from a family room and premium restrooms and shower suites to high-speed Wi-Fi and noise-buffering workspaces.
Growth spurt for Denver International Airport
Denver International airport serves 61 million travelers during the year and has the distinction of being the fifth largest airport in the United States. During the past two years, it has grown by 12 percent, making it one of the fastest growing airports when compared to other airports around the world.
The addition of the Centurion Lounge is an exciting development. "The American Express brand is well known for offering a high-quality experience for their guests, which aligns with DEN's vision of the customer experience for our passengers," said DEN Chief Commercial Officer, Patrick Heck.
"We are pleased that we are able to offer such a high-quality product like the American Express Centurion Lounge to our passengers," he added.
American Express will also be opening a lounge at John F. Kennedy International Airport in early 2019.
While waiting for the lounges at JFK and DEN to open, people can visit the other lounges located across the globe, including Dallas/Fort Worth International Airport, LaGuardia Airport, McCarran International Airport, San Francisco International Airport, Miami International Airport, Seattle-Tacoma International Airport, George Bush International Airport, Hong Kong International Airport and Philadelphia International Airport.